2024 may seem like the distant future, but it'll be here sooner than you think. So where do you see yourself in 2024? The Highview at Searstone is a new 4-story residential addition bringing all the benefits of retirement living with a neighborhood feel and the privacy you desire.

Hear firsthand why current residents are looking forward to the expansion, and what made depositors make the jump to senior living at Searstone. We spoke with current residents Betty and Jerry Nolte to find out what they love most about living at Searstone, and depositors Darlene and Richard Honaker told us what they can't wait for at The Highview.
Current Residents:
1. Tell us about yourself and how long you've lived at Searstone.

Betty's parents showed us how good it can be to retire to a CCRC. Our two adult, single children live in Raleigh, so Raleigh seemed like the best place for us to consider for the next step in our retirement. Most CCRCs we visited had a 3-year wait list for an apartment, and 10-year wait list for a house. We wanted a house, and when Searstone had one available, we jumped on it! We moved in 3 days before COVID hit.

2. What are your 3 favorite things about living at Searstone?
The people – interesting, talented and friendly
The programs – entertaining, informative
The outings – sports, concerts, local attractions
3. Regarding the expansion, what are you most excited about?

New dining venues and an auditorium with a stage.

4. Picture yourself in the community in 2024 when the Highview is open and you're meeting new neighbors. How would you describe it?

Meet at an event, meet on an outing, meet at a meal, meet at an activity – all fun times shared with neighbors. Nothing could be better than to be with friends and make new ones.

5. What advice would you give depositors preparing for their move to Searstone?

Get involved! Join the community early so you can fully enjoy the people, programs and activities. Living in Searstone is interesting and we feel very secure here. There are lots of fun, enjoyable things to do.

Getting involved in activities and the Residents' Association has been a wonderful way for us to get to know fellow residents and staff. Independent living at Searstone is terrific!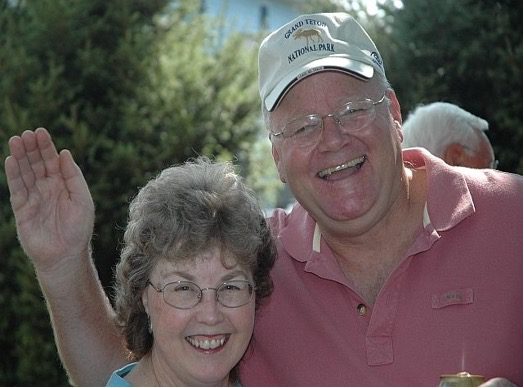 Charter Members:
1. Tell us about yourself and what led you to Searstone.

We met in Connecticut. Darlene was teaching elementary school and I was stationed at the Naval Base in Groton, serving aboard a nuclear fast attack submarine. We met in March and married the following October. We will celebrate 49 years this October. We have been fortunate to be able to travel to several countries in Europe and Australia. After discharge from the Navy, we relocated to Maryland. Darlene continued teaching and I worked in Human Resources for Constellation Energy. Our son and daughter-in-law live in Willow Springs, NC. Our granddaughter was born in October of 2020, which
played a big part in our decision to move here. We like Searstone's location, setting and the friendly, welcoming staff.

2. If you had to name the #1 reason you chose Searstone, what would you say?

I was going to say, "because we are curious characters." Seriously, there were many factors, but it is the security of knowing we will have a secure, healthy, active life with wonderful, interesting new friends. Also, our son and his family won't have to worry if we are well cared for.

(Wow! The Honakers are in tune with our marketing efforts- we call our residents here at Searstone "curious characters.")

3. Picture yourself in 2024 – what do you think you'll be doing?

We hope by summer of 2024 we will be settled in our new apartment at Searstone and be making new friends, learning new things and participating in new activities.

4. What are you looking forward to the most?

The peace of mind of having a wonderful new home without all the hassle of ownership and upkeep.

5. Who will be your first visitor and what are you excited for them to learn about Searstone?

Probably our son and his family. We hope they will be happy to learn that we have a wonderful new home and a place to participate in many new adventures and activities with our new friends.


Visit us here to find out how you can get excited for your future at Searstone today.
https://searstone.com/wp-content/uploads/2022/04/Highview_Charter_Members-2.jpg
388
524
levlanedev
/wp-content/uploads/2020/02/Searstone-Logo-sm.png
levlanedev
2022-04-19 15:09:00
2022-04-22 15:10:14
Looking Ahead to 2024